The Weight-mate is molded from extremely durable polyethylene, which will not crack or break in freezing temperatures (Down to -40 Fahrenheit). The Weight-Mates are not just a great idea for safety for anyone who drives a pick up truck in inclement weather conditions, or transports their families or loved ones in inclement conditions. Stay on the road and out of the ditch! The Weight-Mate will keep you going!
Weight-Mate Features
Easy fill

Easy drain

Fail safe over-flow

Non-skid Mat

Weight distributed directly over axles (adds up to 500 lbs. total weight)

Weighs only as little as 30 lbs. per side empty

Ribbed construction allows for top loading

Available for all trucks with or without Bed-liner

Easily stored in Summer

Less than 6" tall- uses very little box space

Made from durable polyethylene-will last for years to come!
So how much weight do they add?
| | | | |
| --- | --- | --- | --- |
| Length | Width (Each Tank) | Gallon Capacity | Total Weight |
| 6 foot | 20 inches | approx. 58 | 550 pounds |
| 6 foot | 24 inches | approx. 66 | 610 pounds |
| 6.5 foot | 24 inches | approx. 73 | 680 pounds |
| 8 foot | 24 inches | approx. 88 | 833 pounds |
Click below for downloadable information (PDF file)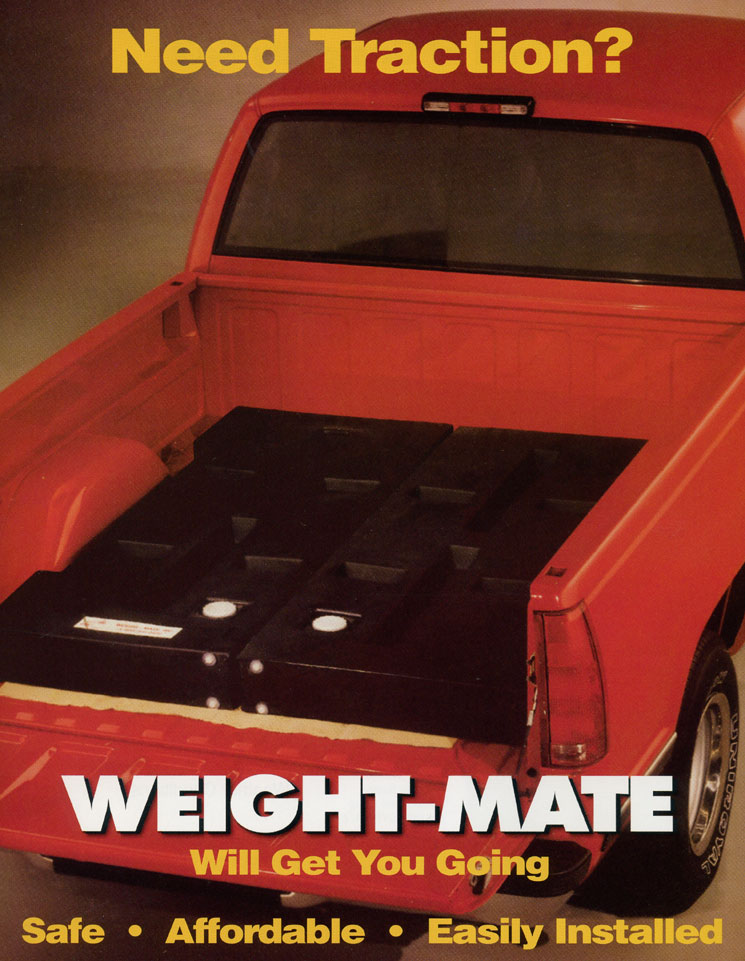 Weight-Mate information
The Weight-Mate provides much better support than the previous "conventional" ideas of adding either messy sandbags or extremely dangerous cinder blocks to the bed of the truck without the added worry of safety or damaging your truck! No worries about cinder blocks flying thru your rear window, no logs to fly out of the bed, no messy sandbags to get wet!
Weight-Mate installation video!
Weight-Mates low profile design allows you, to still use the bed of your truck! The extremely durable Rotationally Molded product allows for heavy loads to ride on top of the weight-mate tanks. In fact, the design and construction of the Weight-Mate units is so durable, the design engineer purposefully designed the product so that he could haul his Harley-Davidson motorcycle on top of them with no issues!
You can also learn about the Weight-Mates "sister" product, the Water-Mates, which allow for transport of up to 60 gallons of potable water in the bed of your truck. Read about these pick up truck tanks at Water-Mates dot com.